Whether you're a weekend warrior or a full-time competitive shooter, target shooting is a challenging and rewarding sport. It's also one that can be improved with practice and proper technique. In this blog post, we will discuss 10 tips to help you improve your target shooting skills. Follow these tips, and you'll be hitting the bullseye in no time!
Practice
The most important thing you can do to improve your target shooting is to practice as often as possible. This will help ingrain the proper muscle memory and technique required for accurate shooting.
If you don't have access to a range or targets, set up some targets in your backyard or garage. You can even use something as simple as a soda can or water bottle. Just make sure you're practicing in a safe environment.
And don't forget to take regular breaks! Shooting is a physically and mentally demanding sport, so it's important to give your body and mind a break every now and then.
Breath Control
Take some time to relax and focus on your breathing. This will help you stay calm and collected when you're shooting under pressure.
Inhale slowly and deeply through your nose, then exhale just as slowly through your mouth. Repeat this several times until you feel yourself start to relax. Then, take a deep breath and let it out slowly before you take your shot.
Remember, it's important to stay calm when shooting. If you're feeling anxious or stressed, your shots will likely suffer.
Grip
How you grip the gun is extremely important for accurate shooting. The most common grip is called the "thumb-over-barrel" or "weaver" grip. This grip provides a firm hold on the gun while also allowing you to line up your shot quickly and efficiently.
To properly grip the gun, place your thumb over the top of the barrel (or as close to it as possible) and wrap your fingers around the grip. Then, tuck your pinky finger underneath the trigger guard. You should now have a firm, yet comfortable grip on the gun.
If you find that your hand is slipping or you're having difficulty holding the gun steady, try adjusting your grip. You may also want to consider using a shooting glove for added grip and stability.
Stance
Your stance is another important factor in accuracy. The most common and stable stance is the "isosceles" stance, named after the triangular shape formed by your arms and the gun.
To assume this stance, simply extend your arms out in front of you and point the gun at the target. Your feet should be shoulder-width apart, and your weight should be evenly distributed between them.
If you find yourself wobbling or losing balance, try widening your stance or shifting your weight to one leg. You may also want to consider bracing yourself against a wall or solid object for added stability.
There's no one perfect way to stand when shooting. Experiment with different stances and find the one that works best for you.
Shoulder Position
Your shoulder position is also important for accuracy. The gun should be positioned so that it rests snugly in the "pocket" between your shoulder and neck.
If the gun is too low, you will have to hunch over to line up your shot, which can throw off your aim. If the gun is too high, you will likely experience discomfort and may have difficulty keeping the gun steady.
To find the proper position, hold the gun up to your shoulder and adjust it until it feels comfortable. Then, take a few practice shots to make sure you're still in the correct position.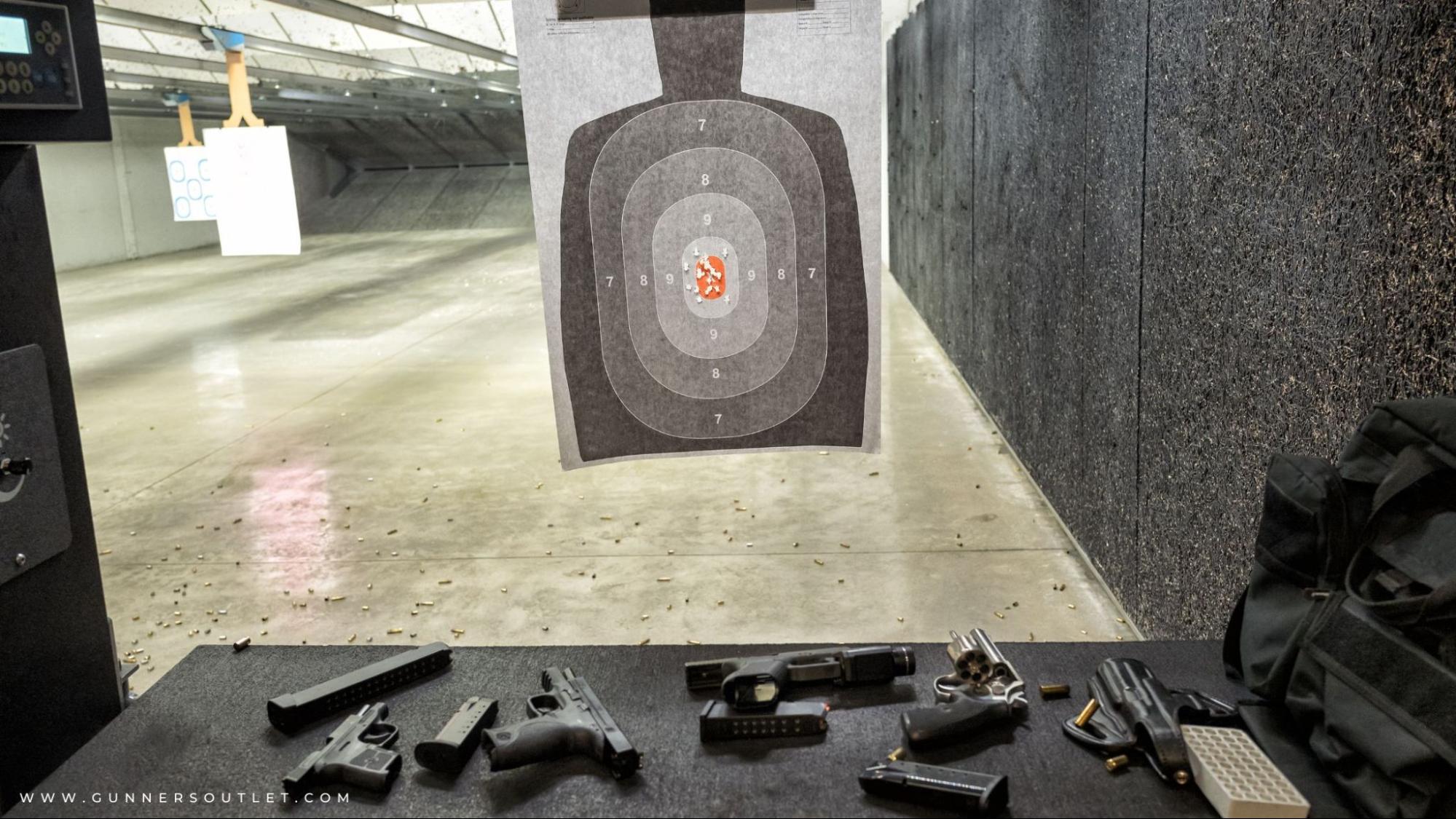 Sight Alignment
Once you have the gun properly positioned, it's time to align the sights. The front sight (the one closest to the target) should be lined up with the rear sights (the ones farthest from the target), and the center of the front sight should be aligned with the center of the target.
If you're having trouble aligning the sights, try closing one eye. This will help you focus on lining up the sights without being distracted by other objects in your field of view.
Once you have the sights aligned, take a deep breath and slowly squeeze the trigger. Remember to keep the gun steady as you're taking the shot.
Right Equipment
Another important factor in accurate shooting is using the right equipment. Make sure you're using a gun that fits your hand and is comfortable for you to hold.
If you're unsure about what kind of gun to buy, ask a professional or someone who's more experienced than you. They'll be able to help you find the right gun for your needs.
Quality Ammunition
Cheap ammo is more likely to be inaccurate, so it's worth spending a little extra on good ammo. This will help improve your accuracy and give you the best chance of hitting your target.
Trigger Control
One of the most important aspects of accurate shooting is trigger control. This means pulling the trigger smoothly and evenly until the gun fires.
If you jerked or pulled the trigger too hard, the gun will likely move off target and your shot will be inaccurate.
Practice dry firing (firing the gun without any ammo) to get a feel for how hard you need to pull the trigger. Then, when you're ready to shoot with live ammo, make sure you take your time and focus on pulling the trigger smoothly and evenly.
Follow Through
After you take your shot, don't immediately lower your gun. Follow through by keeping your eye on the target and maintaining a good sight picture.
This will help you see where your shot went and make any necessary adjustments for the next one.
Conclusion
By following these tips, you'll be well on your way to becoming a better target shooter. Practice makes perfect, so don't get discouraged if you don't see results immediately.
With time and patience, you'll be hitting your targets with ease. Don't forget to visit our website for your ammunition, gear and access needs. We have a great selection of quality ammo at unbeatable prices! Thanks for reading!